The ski resorts in the Allegheny Mountains of West Virginia feature the coldest climate in the Southeast and Mid-Atlantic regions. When the temperature is above freezing in your hometown, rest assure that it is 15-20 degrees colder at the resort's higher elevations. When it's raining in the lowlands, Canaan Valley, Snowshoe Mountain, Timberline and Winterplace are all receiving snow.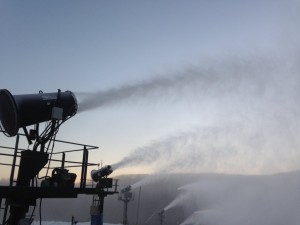 To supplement an average snowfall of over 120 inches, the West Virginia ski areas' state-of-the-art snowmaking capabilities provide nearly 100% slope coverage. Just as long as Mother Nature provides subfreezing temperatures, the veteran snowmakers at all of the resorts are able to cover the 150 trails with plenty of manmade snow.
Snowmaking in West Virginia is why the best skiing, snowboarding and snow tubing can be found in the mountain state. Snowmaking involves creating a mixture of air and water under pressure and spraying it out of a snow gun. The mixture then turns to snow and falls to the ground. Each ski area's snow making personnel diligently monitors temperature, humidity and wind to produce the most optimum skiing/riding conditions.
Manmade snow can also withstand the freeze thaw cycles that occur in the Southeast and Mid-Atlantic regions each winter. Snowmaking is an around the clock operation and when temperatures allow for the snowmakers to be working not a minute is wasted. All of the resorts in West Virginia have sent millions of dollars to update and improve their snowmaking systems in order to better blanket each slope with plenty of long lasting snow.
Always check the daily snow report at each resort to see if snowmaking is taking place and on what trails. This will allow skiers and snowboarders to plan their trips accordingly.