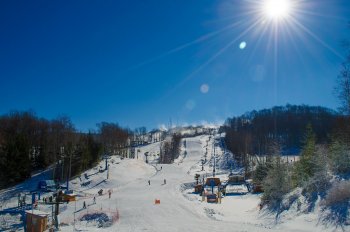 Charleston, WV – Skiers and snowboarders heading to the mountains of West Virginia are finding more terrain open as all of the major resorts are now open.  Canaan Valley opened this past Saturday, December 20.  The ski season began in West Virginia when Snowshoe opened on November 26, while Timberline and Winterplace officially open earlier this month.
While this is great news for skiers and snowboarders, those who like to play in the outdoors during the winter can also find snowtubing available at Winterplace, Snowshoe Mountain and Canaan Valley. The Silver Creek area at Snowshoe Mountain is also open. Along with the natural snow in the mountains recently, temperatures in the higher elevations have been cold enough for snowmaking operations, allowing all of the resorts to provide excellent conditions, as the all-important holiday season is set to start.
Resorts in the mountain state annually attract over 800,000 skier visits and up to 35-percent of that total will be occurring during the upcoming three-week holiday period..  "It's the time of year all of the resort operators look forward to as visitors will be having fun on the slopes from throughout the southeast," says Terry Pfeiffer, President of the West Virginia Ski Areas Association and President of Winterplace. "In many cases this will be the first time a lot of the visitors will have seen snow and we have plenty to show them right now." The top states providing skiers and snowboarders to West Virginia slopes during the holidays is Florida, Georgia and South Carolina, along with international visitors that reside in and around the nation's capital.
The ski and snowboard season traditionally, weather permitting, will continue through early April. The five-month long ski season in West Virginia has an estimated economic impact of over $250 million and 5,000 jobs at the resorts and other related companies.